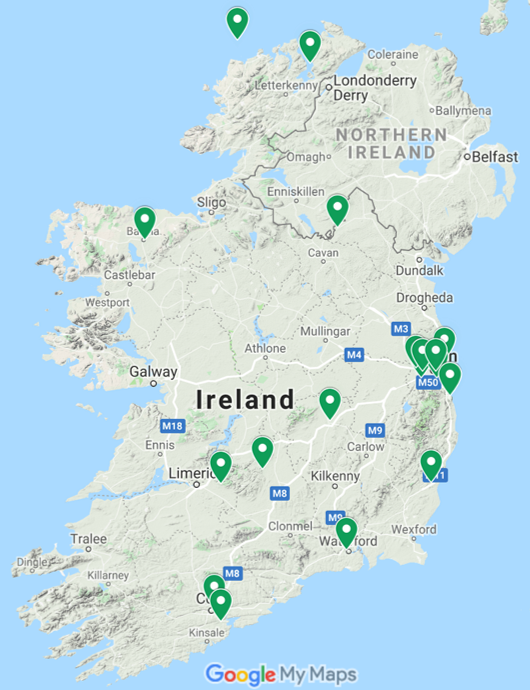 Schools in Ireland that contributed the winning names.
We received a lot of entries for the names of our ocean-bottom seismometers. Even though our competition was advertised in Ireland only, students in Italy also heard of it and proposed a name of their own!
Here is the list of the winners.
Allod – an ancient name for the Irish God of the sea.  Colaiste Phobail Cholmcille, Oilean Thorai,

Contae Dhan na nGall

– (Tory Island, Co. Donegal). Principal: Maire Clar Nic Mhathana

Brian – after Brian Jacob, who led the work on the continental nature of the basins west of Ireland, which led to the Irish territory increasing by a factor of 10. He was the Senior Professor of the Geophysics Section, DIAS, from 1989 until 2001.
Charles – After Charles Richter, the creator of the Richter magnitude scale that quantifies the size of earthquakes and Charles Darwin, the naturalist and marine biologist. St Muredachs College, Ballina, Co.Mayo. 1st Year Science class. Teacher: Cliodhna Boyce

The Dude – short for the Dunamase Dude. Dunamase College, Portlaoise, Co. Laois. Teacher: David Thompson, Geography Dept.
Eve – eavesdropping on the Earth. St. Patrick's College, Gardiner's Hill, Cork City, Co Cork. 5th Year Chemistry class. Teacher: Erin Keogh.
Gill. Grange Community College, Donaghmede, Co. Dublin. 1st Year Science class. Science teacher: Niall Nolan.
Grainne – after Grainne Ni Mhaille (Grace O'Malley) (c. 1530 – c. 1603) – the "Pirate Queen," the lord of the O'Maille dynasty in the west of Ireland. Our lady of Mercy Secondary School, Waterford, Co Waterford. Teacher: Patricia Dunphy, geography.
Harry – after Harry H Hess who discovered the seafloor spreading. Gorey Community School, Gorey, Co. Wexford. 6th year geography class. Teacher: Catherine O'Brien
Ligea – a mermaid from Greek mythology who landed in Terina, an archeological site in Calabria, South of Italy. Classi 5a e 5b. Istituto comprensivo don Lorenzo Milani, Lamezia Terme, Calabria, Italy.
Loch Ness Mometer. Scoil Mhuire, Buncrana, Co. Donegal. Teacher: Denise Dowds, geography. (Proposed by second year student Marie Barr.)

Luigi – after Luigi Palmieri, an Italian physicist and meteorologist famous for his studies of the eruptions of Mount Vesuvius,  research on earthquakes and meteorological phenomena and for improving the seismograph of the time. Lycee Francais d'Irlande, Dublin. 1st year science (sixieme). Teacher: Celine Tirel. (Rayan, Tristan, Ethan, Niv, Elissa.)

Maude – After Maude Delap (1866 – 1953), the Irish marine biologist. St Joseph's College, Borrisoleigh, Co. Tipperary. 2nd year science class. Teacher: Mary Gorey.
Namor -Namor the Submariner is a Marvel super hero. The mutant son of a human sea captain and a princess of the mythical undersea kingdom of Atlantis, Namor possesses the super-strength and aquatic abilities of the Homo mermanus race, as well as the mutant ability of flight, along with other superhuman powers. Glenstal Abbey School, Murroe, Co Limerick. Teacher: Cathal Reid.
Nemo – after the character in Finding Nemo and Jules Verne's Captain Nemo. Largy College, Clones, Co Monaghan. Transition Year Biology class. Teacher: Colette Smith. (Proposed by Aisling Cunningham.)

Quakey. Pobalscoil Iosolde, Palmerstown, Dublin 20. Teacher: Ms. Aileen Carthy, chemistry.
Sebastian – the crab in The Little Mermaid, who sings 'Everything is better down where it's wetter'. This was suggested twice. The two schools are – Gaelcholaiste Carrigaline, Carrigaline, Co. Cork. Teacher: Niamh Furlong; St Joseph's College, Lucan, Co Dublin. Teacher: Declan Doherty.
Tom – after Thomas Crean, an Irish seaman & explorer. Largy College, Clones, Co Monaghan. Transition Year Biology class. Teacher: Colette Smith. (Proposed by Eimear Courtney.)

Wilson – after the ball from 'Castaway,' Brian Wilson of the 'Good Vibrations' fame, and Tuzo Wilson, a geophysicist who made important contributions to the theory of plate tectonics. This was suggested twice. The two schools are: Kingswood Community College,

Dublin 24,

2nd year class. Teacher: Jessica Lynch, geography; Presentation College Bray, Co Wicklow. Teacher: John Bourke, science.